190 North contributor Mark Nilsson Bio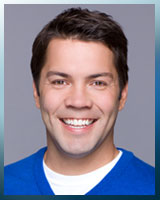 Mark Nilsson was born in Oak Lawn, IL but reared in Blue Island and spent much of his childhood starring in homemade action adventures and comedy skits. In 1998 he became serious about a career and began attending the Illinois Center for Broadcasting.
With some technical knowledge under his belt Mark went to work for Sound Sonic Entertainment as a DJ/MC. In the meantime, he starred in and produced two independent films.
Mark was hand picked in 2003 to appear in Joel Silver's reality show "Next Action Star" where he finished in the top 4 out of tens of thousands of contestants. Since then Mark's been seen in many indie films, commercials, and television programs including the late Patrick Swayze's "The Beast".
His independent film work has garnered Mark several accolades including a Best Actor Award at the 2009 Oceanside International Film Festival.
Stay Informed: