190 North contributor Doug Banks Bio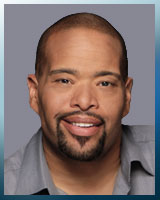 Doug Banks brings his special brand of hip to 190 North as one of the Emmy Award winning program's three correspondents. After a radio career that skyrocketed in Chicago, Doug still knows what makes Chi-town tick.
Doug began his broadcasting career on his high school's radio station in Detroit, Michigan. He then moved on to the big time in Motor City radio. Leaving Detroit, Doug became a hit on stations in Los Angeles and San Francisco.
Chicago had him from 1986 - 1994 both at WVAZ and WGCI.
The ABC Radio Network offered Banks the opportunity to do a nationally syndicated show and Banks' reputation as a radio icon took off. Currently, the "Doug Banks Show" is one of the top-rated syndicated urban programs in America. Of course, you can hear still him on WVAZ in Chicago!
He is a Philadelphia native but grew up in Detroit.
Stay Informed: